In the 1960s we took on a Labrador-type mongrel which kept going missing. This time it had been about five days.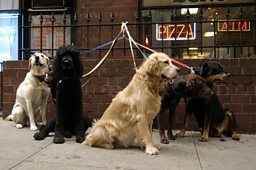 I pushed baby #3 in a pram into town with small brother and sister. In those days you left babe and pram outside the shop. I took the two older children into the shop, upstairs where fabrics were displayed. I was intent on choosing material to make dresses for the babe and her sister.
I was tapped on the shoulder. And I turned around to find the dog behind me on two legs attracting my attention. I have never been able to explain that one. The journey home wasn't easy with pram, two children, and clutching collar of dog for two miles!